CUBE - 2020 Latest eBikes
CUBE STEREO HYBRID 160 HPC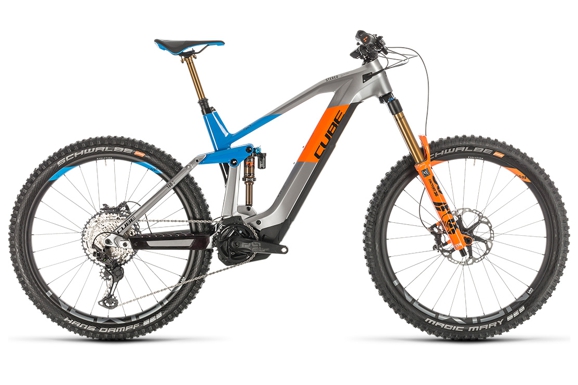 Details
Anyone who tells you that pros don't ride e-bikes has got it wrong. Case in point: the all-new Stereo Hybrid 160 HPC Actionteam. Decked out with a full complement of team issue components and race-tested kit, it combines the mountain-taming, race-proven ability of our enduro bikes with the smooth power delivery and extended versatility of Bosch's fourth-generation drive system. Wish-list parts include Fox Factory shocks - a Float DPX2 Factory at the rear, combined with a 36 Float Factory fork at the front for buttery smooth, progressive and controllable travel in any riding situation - and a Fox Transfer Factory dropper post. There's a Shimano 12-speed transmission with XT derailleur and shifters, offering the widest possible gear range and unmatched reliability. Matching Shimano XT hydraulic disc brakes clamp to 203mm rotors for added cooling and ultimate power and control on even the longest, steepest descents, whilst light and strong Newmen rims wrapped with Schwalbe's Magic Mary and Hans Dampf Super Gravity 2.6in tyres grip tenaciously to the trail. Bosch's smooth, powerful, Kiox-controlled CX drive unit sits in a housing accessed by a single-bolt cover, and the high-capacity power unit - for extended range - is housed in the down tube behind a shock-, moisture- and dust-proof cover. Hidden cable routing, chain guide compatibility, oversized bearings and the proven strength and durability of our carbon main frame - tested rigorously by our own in-house torture testing lab - are the finishing touches that help make the difference. With aggressive geometry designed around 170mm forks and riders who aren't afraid to push their limits, we've covered all the bases to build an enduro e-bike that establishes a completely new benchmark for performance. Our pros know it. And it's available for you to discover, too.

For more details, prices and availability of any of the CUBE range of ebikes, please telephone the shop on 01352 715716
---
CUBE STEREO HYBRID 140 HPC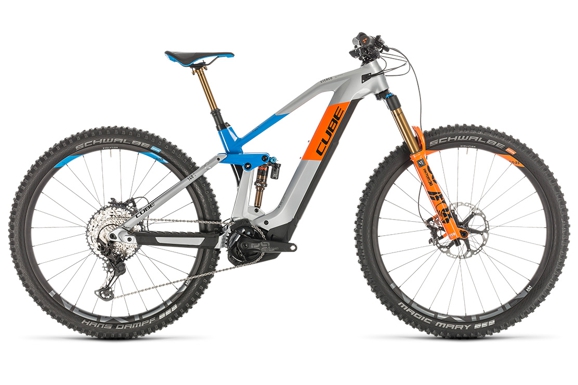 Details
When you're riding the same bike as the pros, you know you're onto a winner - literally. And that's what you've got with the Stereo Hybrid 140 HPC Actionteam: the bike of choice of CUBE athletes, with no compromise. Based around our brand-new Stereo Hybrid 140 HPC 29er chassis, it features a no-holds-barred selection of premium components for ultimate performance. Making the most of our redesigned Agile Trail Geometry and progressive kinematics, the Fox Float DPX2 Factory shock - with trunnion mount - and Fox 36 Float Factory fork offer up to 150mm of smooth, controllable, rock-swallowing travel. Shimano's incredible wide-ranging 12-speed XT transmission works seamlessly with Bosch's fourth-generation CX drive unit to give you the power, torque and gear range to tackle any climb, while powerful XT hydraulic disc brakes with oversize 203mm rotors work with Schwalbe's grippy Super Gravity 2.6in Magic Mary and Hans Dampf tyres to anchor the Newmen rims and XT hubs on even the longest and steepest of descents. Fox's Transfer Factory internal dropper post, RaceFace cockpit components and a Natural Fit saddle put you firmly in control. And, of course, all of this peerless functionality is bolted to our latest all-mountain hybrid frameset with a host of new features. From the semi-integrated seat clamp and 1.5in straight-through steerer to the oversized bearings and chain stay protection with integrated cable routing, it's a masterpiece of elegant, practical design. But we're particularly proud of the new Modular Battery System, which houses the Bosch power unit inside the sleek down tube behind a shock-proof, dust- and moisture-resistant cover. This brand-new design enabled us to increase the battery's capacity, which means you can ride in the mountains for longer than ever before. It's a feature that our team riders will be making use of - and we're certain that you'll appreciate it, too.

For more details, prices and availability of any of the CUBE range of ebikes, please telephone the shop on 01352 715716
---
CUBE STEREO HYBRID 120 PRO 625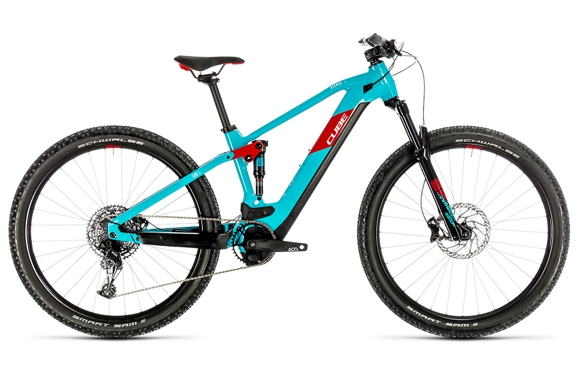 Details
Available in 3 colour variants: Petrol/Red (shown), Black/Red, Green.
When your off-road ambitions begin to shift from exploring to adventure, it helps to have a bike that'll make your life a little easier. Our ever-popular, trail-taming Stereo Hybrid 120 Pro is that bike. Completely redesigned for 2020, its comfortable, stable handling, smooth Bosch drive unit and plush CUBE suspension system add up to an incredibly effective way to expand your trail riding horizons: a Bosch e-bike for explorers. Our brand-new CUBE Modular Battery System houses the power unit discreetly in the gravity cast down tube, with a push-button battery cover and hidden lock. This doesn't just look great, it also keeps it safe from dirt and water, and gives the option of an even bigger capacity battery for extended range. The brand-new, fourth-generation Bosch motor is housed in a vented enclosure with easy one-screw access, seamlessly super-charging your pedalling by transferring its power to the Boost 148 rear end via Sram's easy-to-use, incredibly wide-ranging SX Eagle 12-speed transmission. Agile Comfort Geometry puts you in charge and looks after your comfort, too, thanks to our sophisticated four-bar suspension design and Trunnion RockShox Deluxe Select shock and RockShox Recon RL Air fork. And, when it comes to descending the climb you've just breezed up in less time than you thought possible, powerful Shimano hydraulic disc brakes combined with 2.6in Schwalbe Smart Sam tyres ensure that you've got all the grip and control that you need. We even made the frame kickstand-ready, so you don't need to rely on the nearest wall or tree. Wherever your riding takes you, the Stereo Hybrid 120 Pro gives you the inspiring control, ground-hugging comfort and Bosch e-power boost you need to explore further.

For more details, prices and availability of any of the CUBE range of ebikes, please telephone the shop on 01352 715716
---
CUBE ELITE HYBRID C:62 RACE 625 29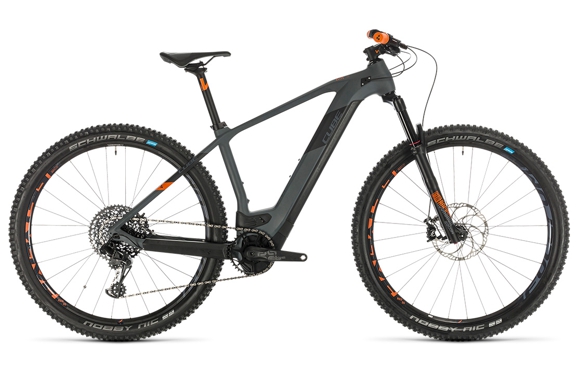 Details
There's an undeniable allure to carbon fibre. Used properly, it can be used to build a fast, sleek and agile bike. Which is exactly what we've done with the Elite Hybrid C:62 Race, except with the added benefit of Bosch's fourth-generation CX drive unit for smooth, quiet power delivery. Add a selection of premium components and revised Agile Ride Geometry for fast, safe and assured handling in any off-road situation, and it adds up to a compellingly well-equipped Bosch e-MTB. Taking inspiration from the superb Reaction Hybrid hardtail chassis, our engineering team applied the same principles with our C:62 carbon and Advanced Twin Mold manufacturing process to build a superbly light, stiff and agile frame. The fully enclosed, high-capacity CUBE modular battery is safely concealed away from dust, dirt and water, and offers even greater range than before. And the svelte, elegant lines conceal neat touches like a semi-integrated seat clamp, integrated cable routing and compatibility with a stealth dropper post. Sounds good, right? Now add the assured performance and easy adjustability of the RockShox Recon Gold fork, serving up 120mm of trail-smoothing travel. Throw in Newmen Evolution cockpit components, 2.35in Schwalbe tyres for epic quantities of grip, Magura's powerful MT Thirty hydraulic disc brakes with 203mm front rotor for safe, predictable stopping in all weathers, and Sram's smooth and reliable 12-speed GX and NX Eagle transmission components. Combined with the Kiox-controlled Bosch CX drive unit, it translates into a superbly competent, extremely fast and surprisingly light trail-devouring machine. Quite frankly, carbon e-mountain biking has never looked so attractive.

For more details, prices and availability of any of the CUBE range of ebikes, please telephone the shop on 01352 715716
---
CUBE REACTION HYBRID SL 625 29
Details
The SL tag isn't one that we dish out lightly. In the case of our brand-new Reaction Hybrid SL, the combination of the completely redesigned aluminium frame and a selection of light, smooth and desirable components means that it's thoroughly earned. More than just an object of beauty, it's a design marvel in its own right - and more desirable than ever, thanks to the fourth-generation Bosch CX drive unit. Our engineering team started from scratch with this bike, developing an all-new Modular Battery System which houses the power unit inside a custom-designed, gravity cast down tube, out of the way of dust, dirt and water. It also enables the use of an even higher capacity battery, meaning that you can ride further and for longer than ever before. Details like the 1.5in head tube, oversized chain stays and Boost rear axle ensure that every watt of the Bosch drive unit's power is efficiently transferred to the rear wheel, while revised Agile Ride Geometry designed around the 120mm RockShox Recon air fork serves up the ideal blend of agility when you want it, and stability when you need it. There's even provision for an easy stealth dropper post upgrade, should your riding ambitions demand it. Powerful Magura hydraulic disc brakes - with a 203mm rotor at the front for even more power under prolonged, heavy braking - and extra-wide, grippy Schwalbe tyres ensure you're always in complete control. And, of course, the smooth and seamless Bosch CX drive unit and Kiox controller deliver pedal-enhancing torque to the rear wheel via Sram's NX Eagle 12-speed transmission. It all means you've got the range, power and control to ride wherever your curiosity takes you - and keep coming back for more. Ride further, ride faster and ride more often. Why not?
---
CUBE REACTION HYBRID SLT 625 29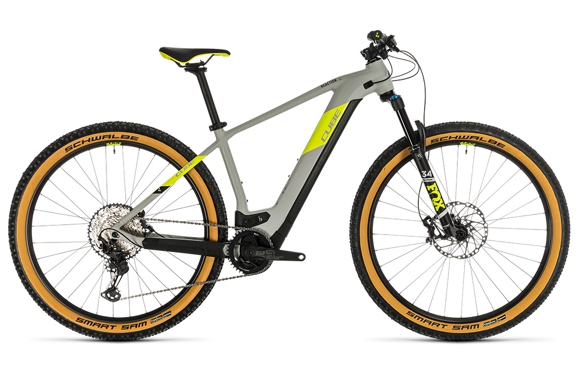 Details
Make no mistake about it - the Reaction Hybrid SLT represents the state of the art in aluminium e-MTB technology. Completely reworked and redesigned for 2020, we're as proud about this Bosch e-bike member of the CUBE family as we are of all our range-topping SLT models. And you don't have to look far to see why. The smooth, elegant lines of the aluminium tubes disguise a wealth of clever design and engineering details. Key to this bike's success is the new CUBE Modular Battery System, which encloses a new, higher-capacity battery entirely within the gravity cast down tube, where it's protected from dust, dirt and water. The custom motor housing provides a stable, secure platform for the fourth-generation Bosch drive unit, while a Boost rear axle, oversized seat stays and rigid 1.5in head tube all combine to ensure that it can deliver its smooth, quiet power to the rear wheel as efficiently as possible. Stealth dropper post compatibility, revised Agile Ride Geometry and chain stay protection with integrated cable routing are the icing on the proverbial cake. Of course, all our SLT models are only as good as the components we fit to them - which is why we chose only the best for the Reaction Hybrid SLT. The Fox 34 Rhythm fork, combined with 2.6in Schwalbe tyres, serves up 120mm of rock- and root-swallowing travel to smooth your path forward, whilst a transmission comprising Shimano's new XT and SLX 12-speed components means you've got slick, reliable shifting over the widest possible gear range - and powerful Shimano hydraulic disc brakes with an oversized 203mm rotor at the front gives you the power you'll need to stop safely, come rain or shine. It really is fully equipped to take on any challenge. Which only leaves one question: where will you be riding tomorrow?
See more of the CUBE range of ebikes on their website below:

https://www.cube.eu/uk/cube-bikes/

All CUBE ebikes can be purchased from Life on Wheels so for more details, prices and availability, please telephone the shop on 01352 715716
---
eBike Servicing & Repairs - Expect Full After Care & Support
Our Bosch and Shimano certified eBike service technicians are experts their field, carrying out servicing & repairs on ALL brands of eBikes that we sell. Our Approved Service Centre and workshop is well equipped with diagnostic systems. Firmware and software updates are performed in-house, keeping your eBike running at optimal efficiency.
Software need updating?
eBike Software Update - £30 (inclusive of diagnostic check)
Please refer to our workshop page for current details of all servicing and pricing.
For advice or to book your eBike in for servicing and/or repair, just give us a ring on 01352 715716 or contact us.
Looking after your eBike
For detailed information on how to care for and prolong the life of your battery, please download our care guide (PDF, opens new window):
Bosch eBike Battery Care Guide