COVID - We're Open as Usual - 10am-6pm Mon-Sat (Sunday closed)
Full social distancing protocols are in place for your safety and peace of mind.
Additionally, we now offer an optional booking system for Service work with confirmed drop-off and collection times (01352 715716).
For new bike sales (eBikes and bikes) we have an optional 1hr appointment reservation, ensuring no waiting or queuing. You will have a dedicated specialist member of staff at your service who will comply with all social distancing protocols (01352 715716).
When visiting the shop, the following protocols are in place:
We will clear a dedicated waiting area inside by the front door, we ask that you please wait there upon arrival to avoid unnecessary movement around the store.
Please keep your distance, follow the one way system and observe the 2m rule.
Please use card payments in store or ring us to pay over the phone prior to collection. No cash transactions.
If possible, please ring in advance so we can prepare goods for your arrival, this will minimise your time in the store. If you have already paid then we can bring things to you outside.
Please be patient as we may not be as quick as usual due to the changes!
---
Life on Wheels, Bike Shop & Service Centre, Holywell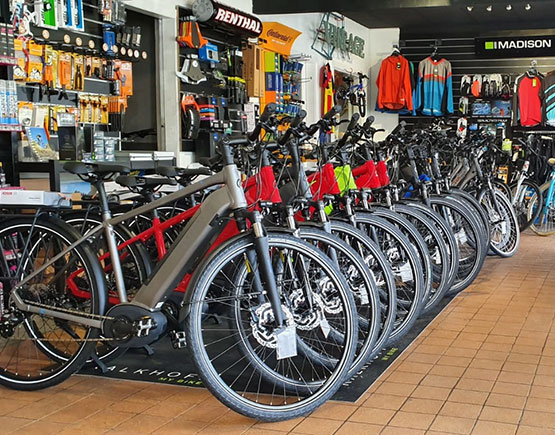 Cycling is...
Freedom, the smell of the outdoors, the wind in your hair (if you're still lucky enough to have some), the feeling of being alive. The exhilaration of descents and the exertion of the climbs.
Cycling rocks...
If you're a lone rider, it's the solitude and serenity and if you're part of a club or tribe it's the camaraderie and banter.
There is nothing quite like cycling and we Live, Breathe, Sell, Service, Eat and Sleep cycling here at Life on Wheels.
Our business is built on our passion.
*Interest Free Finance available on all bikes/ebikes over £1,000.
*over 12 months, subject to availability - Call 01352 715716 to apply!